Economy Lock Stainless Steel Round Disc Lock
Material:
Purpose:

Safe

Apartment

Drawer

Household
Customization:
Lock Cylinder:
Color:
Specification:
Verified Supplier

Padlock:
Quality Products from Best Suppliers in China.
High-quality suppliers on the platform, committed to providing the best products, ensuring service quality and product quality.
Quick Details
Features:

Anti-corrosion

Anti-rust

Aawing & Prying resistance
Transport Package:

Carton
Output:

500000 pieces/month
Payment:

L/C

T/T

D/P

Western Union

Paypal

Money Gram
Disc Lock Description
Most shackle-style locks are classified as either a padlock or disc lock. Round disc lock types have a protected shackle with only a small part expose to lock to your hasp.There are two common Round disc lock styles, one is a combination disc lock, the other is commonly used key lock. Round disc lock with a nickel-plated cylinder for enhanced weather protection. Lock body, inner parts, and shackle are made solely from stainless steel for extreme resistance to corrosion along.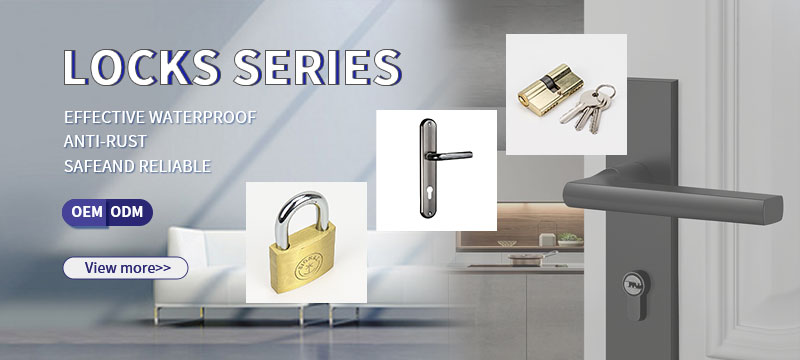 Disc Lock Detail Show
1.Round disc locks size: 2-3/4" disc padlock
2.Round disc locks body: stainless steel body
3.Round disc locks shackle: hardened steel shackle
4.Round disc locks cylinder: 4-pin cylinder
5.key retaining in unlocked position, available keyed differently and keyed alike,Two keys included per padlock in standrad,Quantity of keys can be increased or decreased according to customer needs.
Round disc locks Usage: A round disc lock is a portable security device for motor and scooters. Strong and Durable Disc-locks use the holes in a motor's or scooter's brake disc.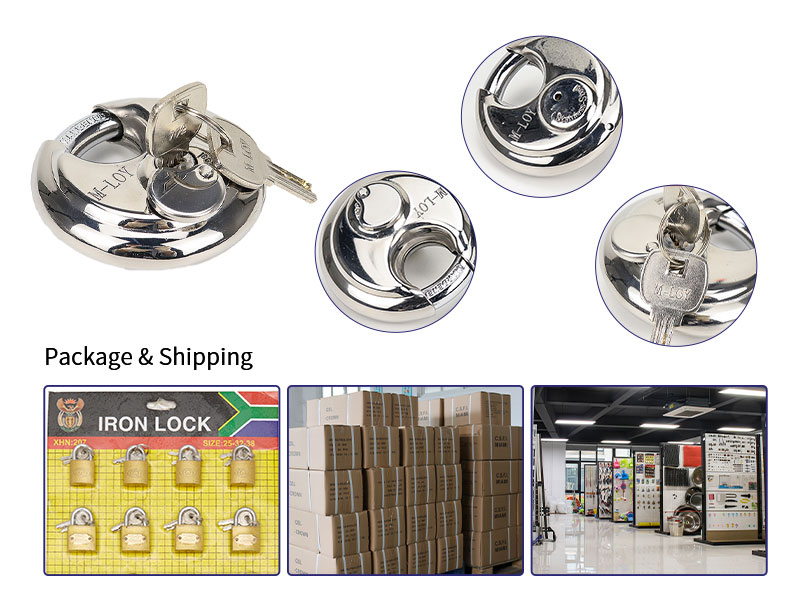 Disc Lock Process
Manufacturing body
The padlocks have a body made of several sheets of metal stacked on top of each other that are laminated together , which helps to reinforce the metal. The pieces of stacked metal make the inside of body stronger so the lock can't be broken easily.
In most of cases , the brass will be used as material of body. Because it perform quite well in weather resistance. Once the metal shaped , then caps are riveted into lock body.
Manufacturing shackle
A cutting machine is needed in this step to cut the steel rod in order to allow them to fit into holes on top of lock body. After cut , they are then bent by a bending robot and tempered for reinforce.
Manufacturing mechanism
In this step you will make everything that goes inside of padlocks. The ball bearing will be put inside , the bearings plays an important role in blocking shim, otherwise the padlock can be shimmed open by putting a shim at bottom of shackle and forcing the lock open.
Then the padlock will be prepared for lock cylinder by putting a cylindrical case inside, once put the cylindrical case in , the machines put pieces of cylinder together ,including taking a plug, loading iy with pins and springs , and installing a case around it.
Finishing up
Now it comes to the last step . A key needs to be cut to fit the pins inside cylinder. A worker takes empty bodies and places the cylinder inside of padlocks , to ensure they go with correct padlock , and then a spring is placed at bottom
At the end of the process, the padlock have to be tested to ensure it can work wel as it should be . The main test items are the ease of use and the strength of lock.

International Show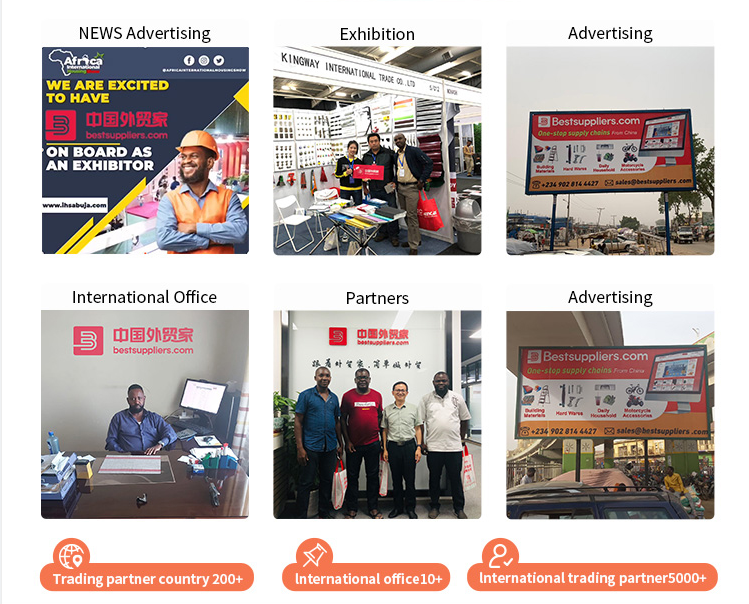 FAQ
Q1:Can you send free samples?
Yes, we provide a disc Lock free samples. You can test your disc Locks before buying in bulk, and make sure everything is as you imagined.
Q2: How about disc Lock price?
The disc Locks price depends on the cost of materials, labor, sea freight and other factors that may affect the unit cost. You can always consult us and get a favorable and reasonable quotation.
Q3: How can you guarantee the disc Locks quality?
Our goods have international standard certification. We will confirm the product situation with you again in the production process. After the production, we will let our professional quality control group carry out quality detection and send the testing report to you. At the same time, we also support third-party testing organization to detect our goods.
Q4: How long is the delivery time for the disc Locks?
The lead time is associated with the complexity of your products. We may have some confirmation on the details before making a final decision. But once the outdoor padlock sample is approved, it will take roughly 30 to 45 days for mass production. Please contact us to know how long your products may take.
Q5: How do we start disc Locks import business?
Step 1, please tell us the style and quantity you need.
Step 2, we will make PI for you to confirm the order details.
Step 3, when we have confirmed everything, we can arrange the payment.
Step 4, finally we deliver the goods within the stipulated time.
Contact Us
At Bestsuppliers, we understand the importance of security for self-storage and mini warehouses. That's why we offer a range of locks specifically designed for these applications. Our storage unit disc locks feature a short 'embedded' hasp that is resistant to bolt cutters and a round shape that makes it challenging to strike with a hammer.
Our inventory includes a wide selection of locks to meet your specific needs. We have economy and premium keyed locks, cylinder locks, overlook locks, and keyed-alike locks. For enhanced security, we also offer high-security models with thousands of possible combinations. Additionally, if you require the ability to disable a lock, we have overlock locks (lock out) with manager keys to prevent access by non-paying tenants.
Choose Best Suppliers for reliable and durable locks that prioritize the safety of your self-storage and mini warehouse units. Contact us today to discuss your requirements and place an order.
Send Your Messages to Suppliers
Bestsuppliers will never sell your personal information without your permission.