Cross-Country Thread Pattern Motorcycle Tires with High Quality
Type:
Diameter:
Tire Design:

Bias Belted Tyre

Diagonal Tire
Certification:
Tread Pattern:

Cross- Country Tread Pattern

Dual Purpose Tread Pattern

Transverse Pattern
Kind:
Verified Supplier

Motorcycle Tire:
Quality Products from Best Suppliers in China.
High-quality suppliers on the platform, committed to providing the best products, ensuring service quality and product quality.
Quick Details
Transport Package:

Carton
Output:

500000pieces/month
Export Port:

Shanghai/Ningbo/Qingdao
Payment:

L/C

T/T

Western Union

Paypal

Money Gram
Motorcycle Tires Description
Motorcycle tires have different patterns on the front and rear wheels. The front tire is mainly for guidance, the back tire is for driving and it definitely has better grip than the front tire. Wider tires have larger contact surface with the ground. Wider tires are characterized by having a better grip, transfers well the driving force and braking force, makes the engine performance better, improves the stability, safety and comfort of driving. Bestsuppliers provides various types of motorcycle tires, you can contact us at any time to choose the style and quantity you need.
Features:
Heavy-duty quality: Our tires have a multi-directional all terrain tread pattern. Our tires offer great traction on soft, loamy terrain and excellent control in hard-pack conditions.
High performance: These tires are designed to maximize your ATV performance. Designed for farm or recreational use, they are a great choice for motocross.
Universal Features: These tires offer universal features so you can drive effortlessly across almost any terrain. The multi-directional tread pattern grips and holds to the ground without tearing the turf and reduces slippage on wet surfaces.
Value for money: Well made and well threaded, these tires are a cost efficient solution that offers you great value without compromising quality.
This motorcycle tyre with an enhanced body ensures an excellent riding experience, thereby improving stability and extending service life. The tire can withstand high mileage and heavy loads, making it ideal for travel.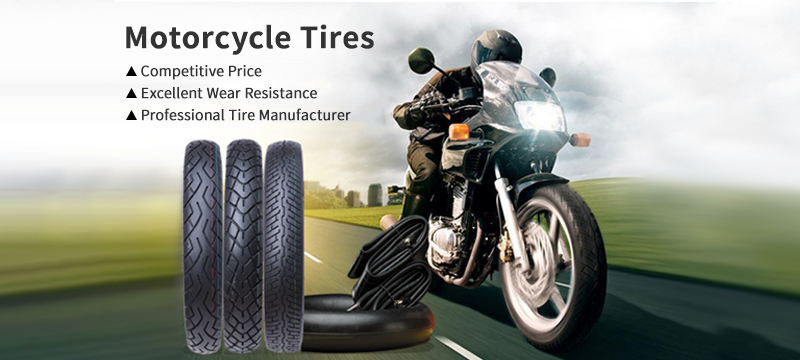 | | |
| --- | --- |
| Material | Rubber |
| Color | Black |
| Season | All-season Tyre |
| Advantage | High Tensile, Longer Wear Resistance |
| Usage | Electric Bicycle and Motorcycle |
| Quality | Top Quialty |
| Cross-country/Road tyre | Cross-country/Road Tyre |
| Packaging | Support Customization |
| Service | OEM, ODM |
Motorcycle Tires Application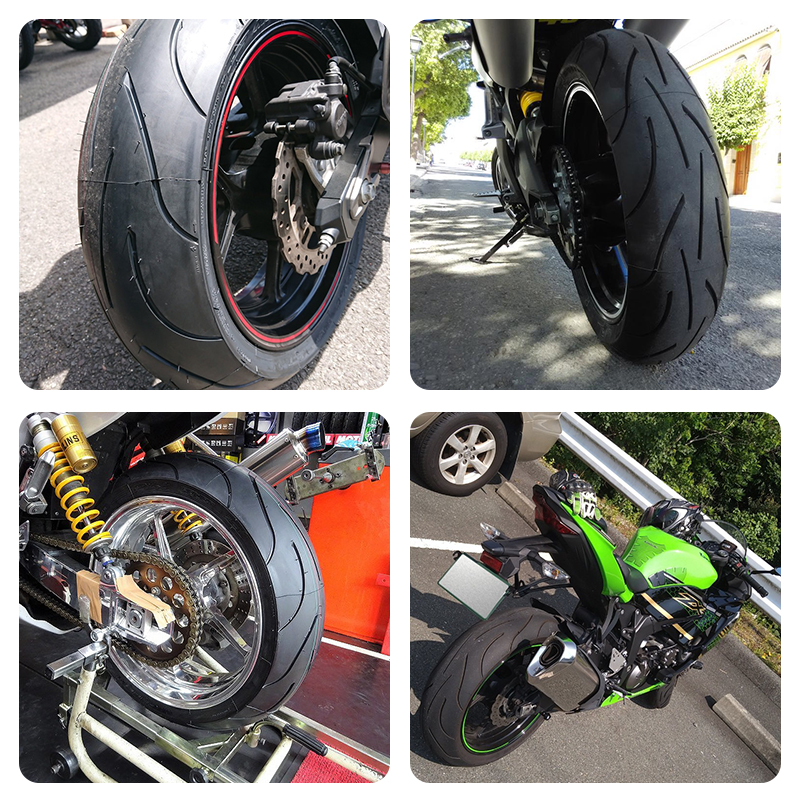 Customer Feedback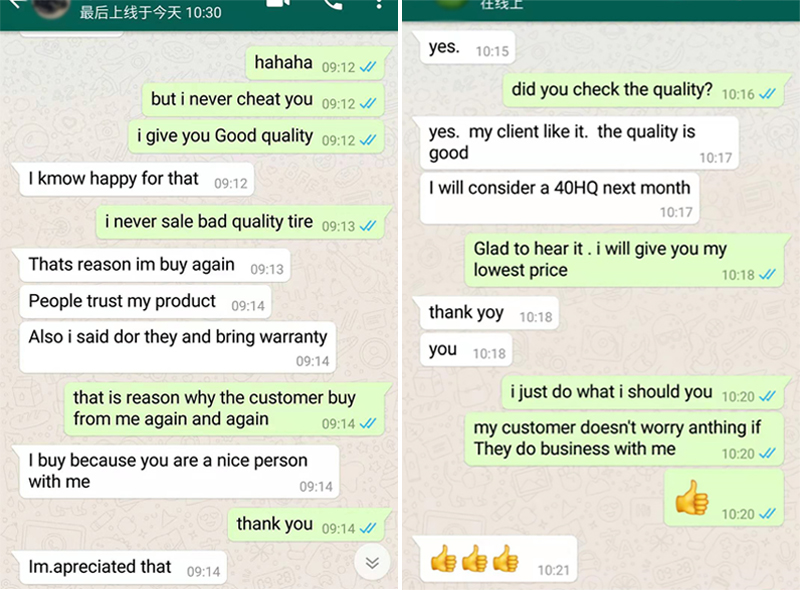 Motorcycle Tires Production Process
First, select several different types of rubber as well as special oils, carbon black, pigments, antioxidants, silica and other additives that will combine to provide the desired raw materials. Different compounds are used in different parts of the tire. The Banbury mixer combines the various raw materials of each compound into a batch of uniform black material with the consistency of gum. The mixing process is controlled by computer to ensure its uniformity. The composite material is then sent to a machine for further processing into the sides, tread or other parts of the tire.
Second, After the raw materials are mixed, the tire is assembled. The tyre molding machine is first placed on the air-tight layer, a special rubber that is resistant to air and water penetration, followed by the body cord layer and the belt layer. When assembled, they are made of polyester and steel, providing excellent strength and flexibility. Belts are cut to exact angles and dimensions according to the tire engineer's specifications to provide the desired ride and handling characteristics.
Third, The bronzed wire is twisted into two hoops and implanted into the sidewall of the tire to form a bead, ensuring an airtight fit with the rim. The tread and sidewall are placed in the belting layer and the upper layer of the body, in which case all parts will be firmly pressed together.
The last step is to vulcanize the tire. The tire is placed in the mold and inflated to form the tread and certification information on the side wall. Once this is done, the tires are heated to temperatures above 300 degrees Fahrenheit for 15 minutes, and then the heated tires are vulcanized and cured.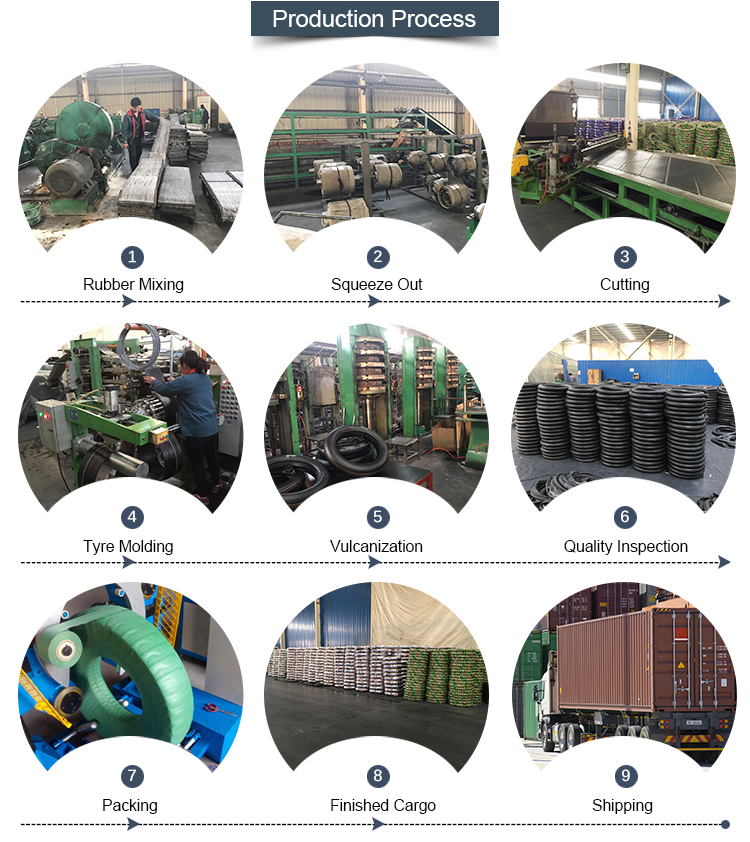 International Show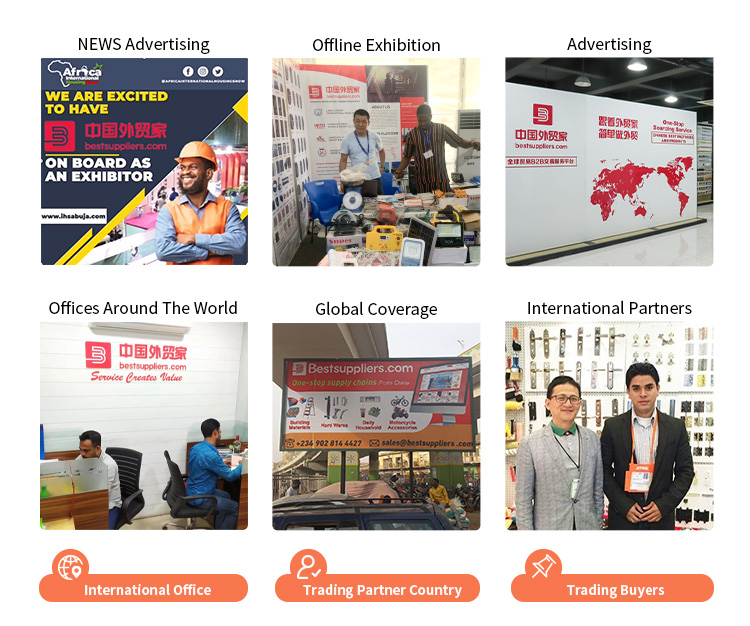 FAQ
Q1: How about motorcycle tyres price?
The classic motorcycle tires price depends on the cost of materials, labor, sea freight and other factors that may affect the unit cost. You can always consult us and get a favorable and reasonable quotation.
Q2: How can you guarantee the quality?
Our goods have international standard certification. We will confirm the product situation with you again in the production process. After the production, we will let our professional quality control group carry out quality detection and send the testing report to you. At the same time, we also support third-party testing organization to detect our goods.
Q3: How long is the delivery time for the motorcycle tyres?
The lead time is associated with the complexity of your products. We may have some confirmation on the details before making a final decision. It will take roughly 30 to 45 days for mass production. Please contact us to know how long your products may take.
Q4: How do we start our business?
Step 1, please tell us the style and quantity you need.
Step 2, we will make PI for you to confirm the order details.
Step 3, when we have confirmed everything, we can arrange the payment.
Step 4, finally we deliver the goods within the stipulated time.
Contact Us
The best classic motorcycle tires supplier in China.
We have provided you with a variety of classic motorcycle tires. Make purchasing easy.
Start a successful classic motorcycle tires business with us.
Please feel free to contact us if you need any further information.
Email: inquiry@bestsuppliers.com
Send Your Messages to Suppliers
Bestsuppliers will never sell your personal information without your permission.