Monolayer Graphene Oxide Slurry
Horizontal size:
Single layer rate:
Oxygen content:
Thickness:
Stable Dispersible Solvents:

Water

DMF

Ethylene Glycol
Application:

Adsorption

Separation

Catalysis

Solid Phase Extraction

Detection and Sensors
Quick Details
Transport Package:

Carton
Payment:

L/C

T/T

D/P

Western Union

Paypal

Money Gram

Other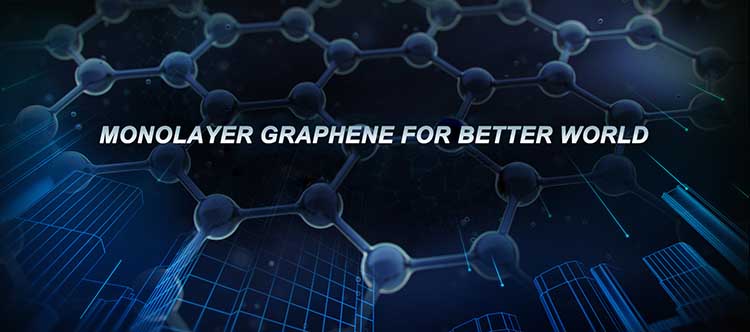 Product Description
Graphene oxide powder is formed by the wrinkles of single-layer graphene oxide. Due to the existence of the wrinkled structure, there are micropores and mesopores between graphene oxide sheets, which reduces the stacking between sheets and improves its dispersibility and solvent infiltration. sex. Traditional graphene powders are prepared by liquid-phase exfoliated graphite, oxidative pyrolytic graphite or biomass conversion, and are highly stacked flake graphene materials, which cannot give full play to the properties of single-layer graphene. By controlling the preparation process, parameters such as density, specific surface area, oxygen content, and defect degree of graphene oxide-derived graphene powder can be regulated to meet application needs in different fields.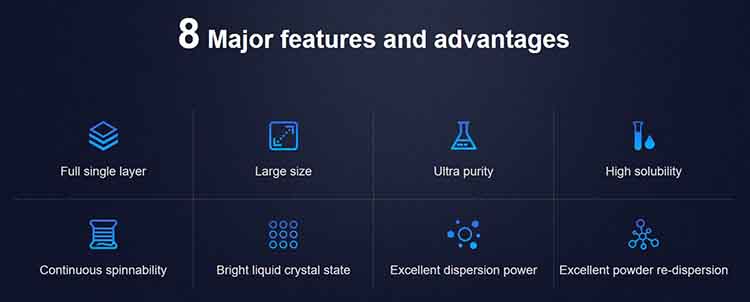 >99% Monolayer Graphene
The product is single- layer graphene oxide with a single- layer rate greater than 99%. It is the world's first and currently the only single layer graphene oxide manufacturer certified by the International Graphene Product Certification Center (IGCC).
Large Lateral Size
The horizontal size is large and controllable. It can produce large size (average size>40 microns) graphene oxide, the size can be adjusted, and the size distribution is narrow, suitable for research reagents.
Large Lateral Size
He product is spinning-grade monolayer graphene oxide, which can be used to produce continuous graphene fibers by wet spinning without any additives. This is an interational original technology.
Bright Liquid Crystal
Liquid crystals can be formed at a low concentration of about 1mg/mL, and bright and colorful liquid crystal textures can be observed under a polarizing microscope.
Outstanding Dispersion
It has good dispersion in composite materials and can be polymerized in situ to prepare multifunctional composite materials, with less agglomeration and high cost performance.
Ultra purity
The content of metal ions is extremely low and can reach electronic level.
Powder Redispersibility Excellent
The content of metal ions is extremely low and can reach electronic level.
Higher Solubility
It has high solubility in water and polar organic solvents (>10mg/mL), and can be directly spun into fibers, scraped into films or freeze -dried into aerogels.
Product advantages
Not easy to stack, good dispersion
The density, specific surface area, oxygen content and defect degree of the powder can be adjusted
Wide source of raw materials and low cost
Highly pleated structure, abundant pore structure

Application field
Graphene oxide powder can be compounded with most polymer materials, has good dispersibility, and can improve the strength, modulus, UV resistance, corrosion resistance, wear resistance, far-infrared emission and other properties of the material; due to its wrinkled structure and Rich pore structure, graphene oxide powder has broad prospects in many fields such as supercapacitors, batteries, catalyst carriers, etc. Graphene oxide powder can be used as lubricant additives to improve the performance and durability of lubricants, compared with multilayer graphite Graphene has better dispersibility; it can be used to prepare graphene-based coatings, air purification filters, oil-absorbing materials, etc.
FAQ
Q:When can I get the price?
We usually quote within 24 hours after we get your inquiry.
Q:How can I get a sample to check your quality?
After price confirmation, you can require for samples to check our quality.
Q:How long can I expect to get the sample?
It will be ready for delivery in 7-15 days. The samples will be submitted to you via express and arrive in 3-5 days.
You can use your own express account or prepay us if you do not have an account.
Q:What about the lead time for mass production?
Honestly, it depends on the order quantity and the season you place the order. The lead time of MOQ is about 15-30 days.
Q:What are your terms of delivery?
We accept TT FOB, CIF, etc. You can choose the one which is the most convenient or cost-effective for you.
Send Your Messages to Suppliers
Bestsuppliers will never sell your personal information without your permission.