Non-slip steel Hand Garden Tools Africa Shovel Agricultura Shovel with Wooden Handle
US $0.67 - $2.88
/Piece |

100

Pieces(Min. Order)
Head Material:

Carbon Steel

Plastic

Stainless Steel

Aluminium Alloy
Specification:
Application:

Garden Shovel

Snow Shovel

Farming Shovel
Handle Material:
Shape:
Function:
Contact us For product pricing, customization, or other inquiries:
Contact US
Verified Supplier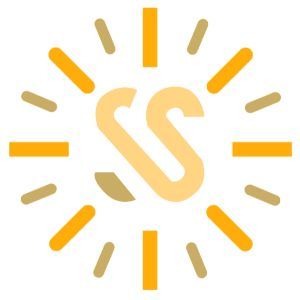 Hangzhou Sunny Smile Import & Export Co., Ltd.
High-quality suppliers on the platform, committed to providing the best products, ensuring service quality and product quality.
Quick Details
Color:

Dark Green

Black

Silvery White
Transport Package:

Carton
Export Port:

Shanghai,Ningbo,Qingdao and so on
Payment:

L/C

T/T

D/P

Western Union

Paypal

Money Gram

Other

Shovel Description
·Conformed to ergonomic requirements that are durable for those who need MAXIMUM digging and prying power.
·Equipped with features that improve comfort, reducing fatigue or back pain -Surely to be a welcome and essential addition to your tool shed.
·Designed for spading, planting, prying, cutting roots, digging-Transfer and dig soil, snow, or other materials more easily and efficiently.
·Built to last and stay intact, every shovel aims at efficiently lifting and transferring large volumes of sand, stone, mulch, fertilizer, or penetrating and breaking up tough soil easily, making them ideal for countless diverse labor jobs.
·Powder-coated paint, smooth and comfortable to the touch and offers easy cleaning.
·Closed back design keeps dirt out and adds strength.
·Handle is made of aerospace-grade steel for durability and it locates both at the top and center of the shovel to get a good grip on heavy dirt.
·Red grip provides additional performance and is easier to find in the field.
·The edges of the shovel can also be used to scrape hard soils.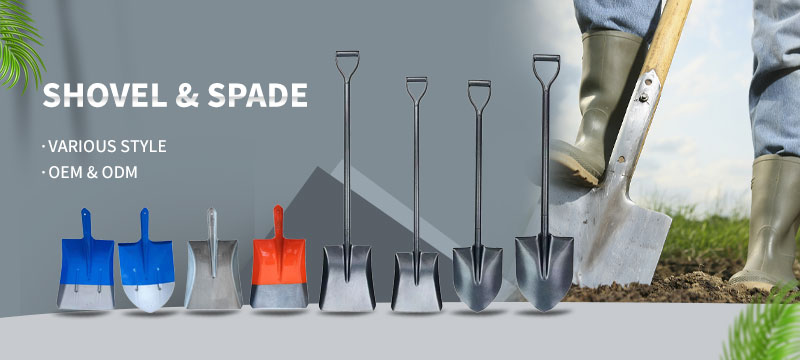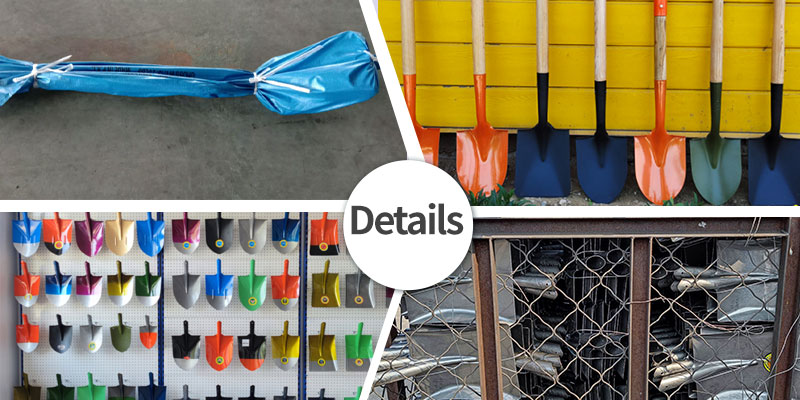 Application
The shovel is often used in the garden, for general maintenance, and to dig holes for trees, shrubs, and other plants. It is also used to dig holes for fence posts, move debris, and spread soil and compost. It is especially useful for digging and leveling soil for planting in raised beds, digging drainage systems, and creating berms.
The shovel is also commonly used in construction and road work. It is used to dig and level trenches for pipes, lay foundations for buildings, and create ditches for drainage. It can also be used to dig a trench for laying a sidewalk or patio, or to level a road or driveway.
The shovel is also used to dig and move snow, in both domestic and commercial applications. It is used by homeowners to clear driveways and sidewalks, and by snow plow operators to move and spread snow in parking lots and along roads. It is also used by ski resorts to create ski slopes and other snow features.
In addition, the shovel is also used in landscaping and gardening. It is used to dig holes for planting trees, shrubs, and flowers, and to level and spread mulch, gravel, and sand. It is also used to create berms and other landscaping features, to shape and level flower beds, and to create pathways.
Production Process
Workers heat planks of steel about two centimeters thick to 1100 degrees(Celsius). A massive press then cuts the planks into t-shaped pieces. The next press with a couple of strikes forms a neck, the starting point for the socket, flattening and thinning the steel in the process.
Next, they finalize the socket shape. The first strike simultaneously curves it into a u-shape and punches a rivet hole. A press stamps the precise contour of another, finalizing the blade shape. The repeated heating, reheating, and forming renders the steel brittle and weak.
They heat the head to 1100 degrees(Celsius) at a very specific rate over a period of about 90 seconds, then they submerge it in cool water for about 30 seconds this heating and quenching. The next step, is a coat of paint, allowing the natural color to show through, they bake the paint for about five minutes to make it ultra durable.
They take a cylindrical piece and saw a 20-centimeter slot down one end in the shovel's shaft. They sit that slotted end in boiling water for three minutes to soften up the wood. They move the shaft to a slightly heated chamber for a couple of days to dry. The shaft goes to the assembly shop where they put it in a press and made it with the head, then they secure it with a rivet through the rivet hole in the socket.
The next operation is called linishing, using a coarse sanding belt, they wear down the wood where it meets the metal making a smooth transition between the two materials.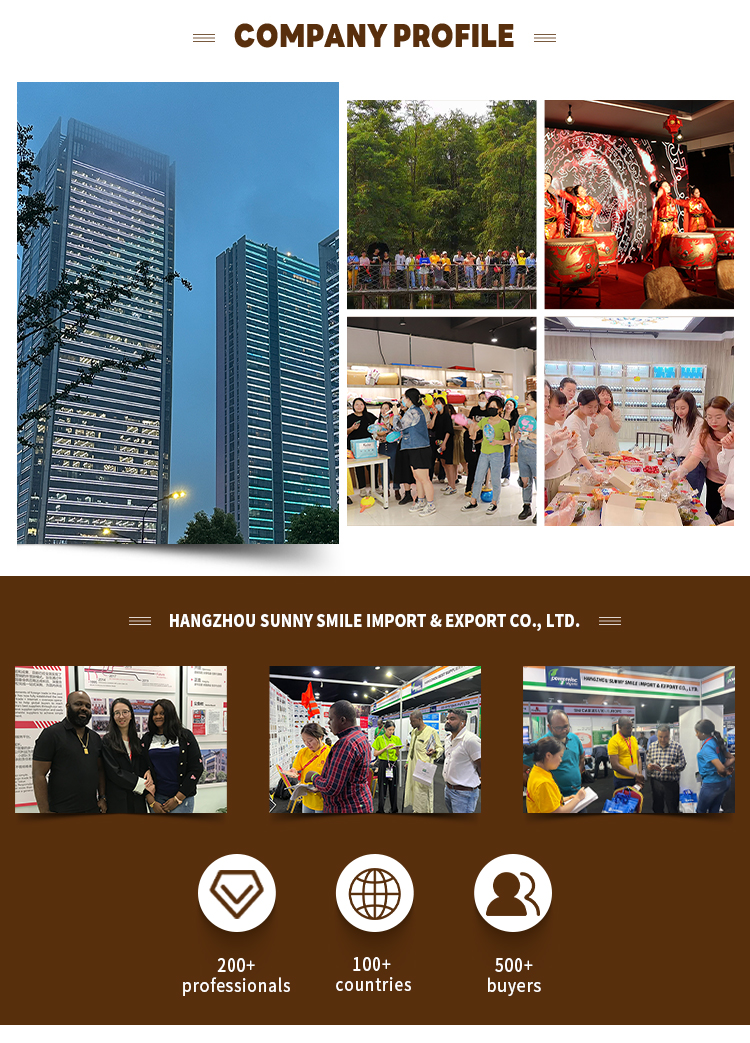 Established in 2018 in Hangzhou, China, Hangzhou Sunny Smile Import & Export Co., Ltd. is strategically located adjacent to the world's largest small commodity wholesale market–Yiwu International Trade City. Company Overview: As a leading B2B international trade company in China, Sunny Smile has excelled in service delivery with a dedicated team of over 200 professionals.We've successfully facilitated imports from China for 5,000 global buyers.Our products' categories include Kitchen Implements, Disposable Products, Awning, Umbrella & Raincoat, Drinkware and ect. These products are exported to 100+ countries and regions, including Europe, Africa, and South America. We have a team of more than two hundred employees.With over three decades of experience spanning various product categories, we have access to a multitude of factory resources, ensuring we can offer you the most competitive prices.Our personalized service, which covers everything from procurement to production monitoring and shipping, is especially welcoming to new importers.We provide professional solutions for sourcing from China, including private label development, product innovation, comprehensive quality inspections, favorable payment terms, and tailor-made logistics solutions for small batch shipments.If you are looking for a reliable partner for sourcing products from China, We are here to meet your needs, feel free to get in touch with us now.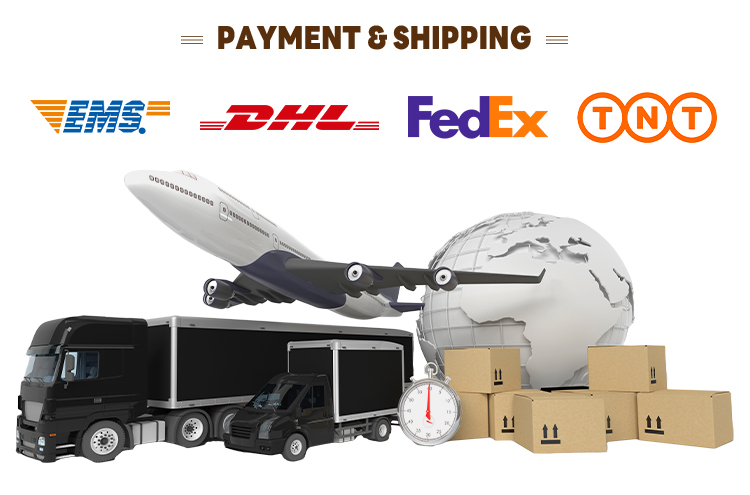 1. Can I request samples of your products before placing a bulk order?
Answer: Yes, we encourage clients to request samples to evaluate the quality, functionality, and design of our light industrial products before committing to larger orders.
2. Do you offer customization options for light industrial products?
Answer: Yes, we provide customization options for certain products. This may include variations in design, color, and packaging to meet specific customer requirements.
3. What is the lead time for production and shipping of light industrial products?
Answer: Production and shipping times depend on the specific product and order quantity. We provide estimated timelines upon order confirmation.
4. What payment terms do you offer for light industrial products?
Answer: Payment terms are negotiable and typically involve an initial deposit and final payment upon shipment. We accept various payment methods, including bank transfers and letters of credit.
Send Your Messages to Suppliers
Bestsuppliers will never sell your personal information without your permission.