Roman Style Aluminum Zinc Purple Late Material Color Roof Tiles
Material:

Clay

Synthetic resin

Metal
Type:

Plain Roof Tiles

Bent Tiles

Double Roman Tiles
Shape:

Arched

Semi-Cylindrical

Plain
Size:
Color:

Brick Red

Grey

Yellow

Black

Blue
Customized:
Verified Supplier

Stone Coated Roof Tile:
Quality Products from Best Suppliers in China.
High-quality suppliers on the platform, committed to providing the best products, ensuring service quality and product quality.
Quick Details
Transport Package:

Carton
Output:

50000sheets/month
Payment:

L/C

T/T

D/P

Western Union

Paypal

Money Gram

Other
Color Roof Tiles Description
Stone coated metal roof tile is a new roofing material produced with durable galvanized steel plate and adopts the high quality watercraft acrylic resin as the adhesives, the weather resistant nature color sand or dyed nature sand as the surface layer through unique techinical process. It has both the natural, good propeties of traditional roof clay tiles and the excellent light, strong, durable performance of modern metal tiles. It is currently the main high-grade roof materials in the world.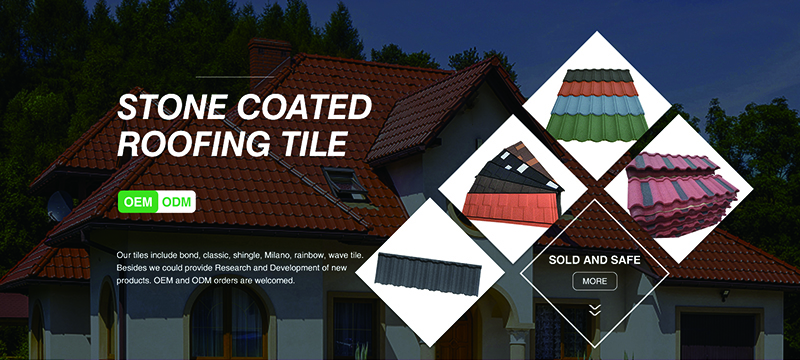 Color Roof Tiles Style And Color
There are many styles and colors of colored stone tiles: there are milan tiles、bond tile、shingle tile、classic tile and so on.At the same time, there are wine red, black, black blue and other colors, you can contact us to choose the style you need.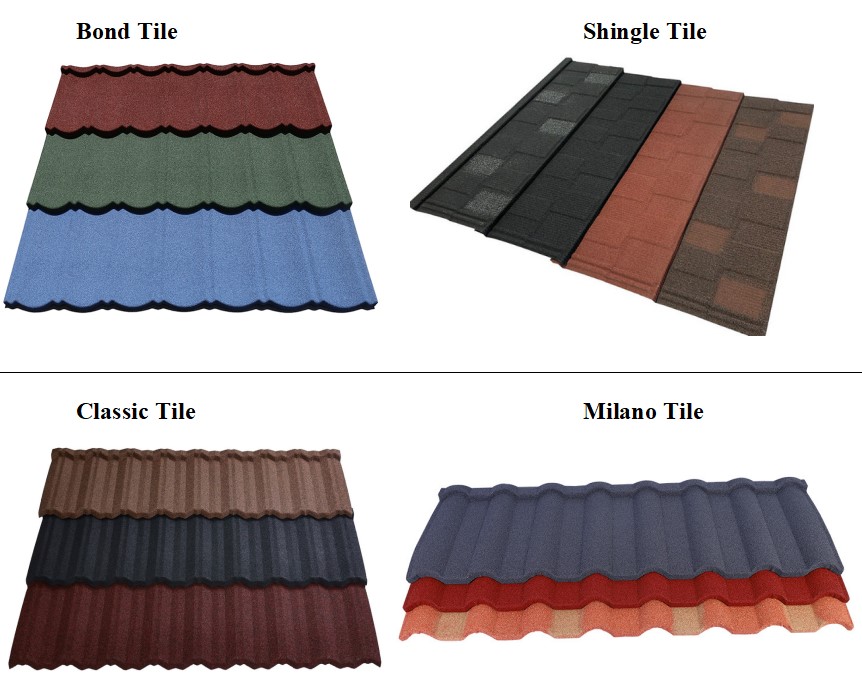 Color Roof Tiles Features
Color roof tiles feature the low cost, light weight, durability , fire-resistance , and long lasting time , and also easy to install.They are originated from agricultural setting in the early years , and now are already moved to commercial and residential application as their durable, weather resistant , and multiple appearance design.Good impact resistance, good impact resistance, will not damage the product; good flame retardancy, use of flame retardant materials, anti-combustion; good sound insulation effect, after withstanding heavy storms, the tiles can absorb noise.Metal tiles are easy to cut, easy to bend, quick to install and basically require no maintenance.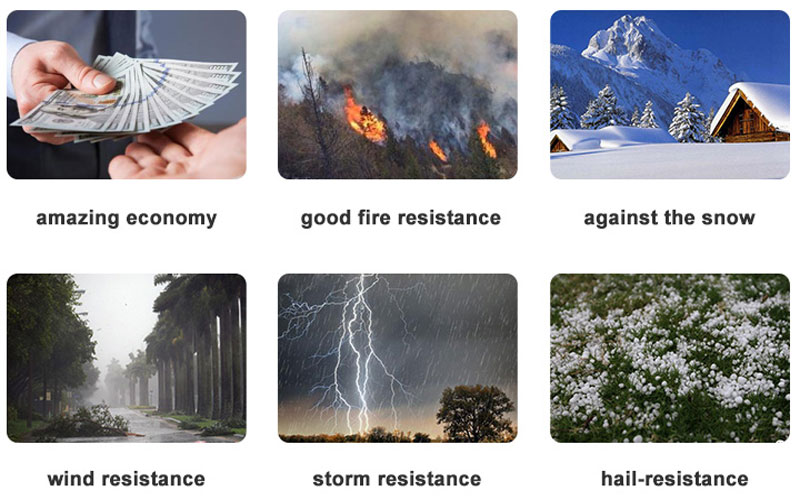 Corrugated Roofing Sheets Application
The color roof tiles prevents leaks and can be used for siding, roof and deck, making it easy to install thanks to its exposed fasteners. Bright colors and three-dimensional appearance make it have a good decorative effect.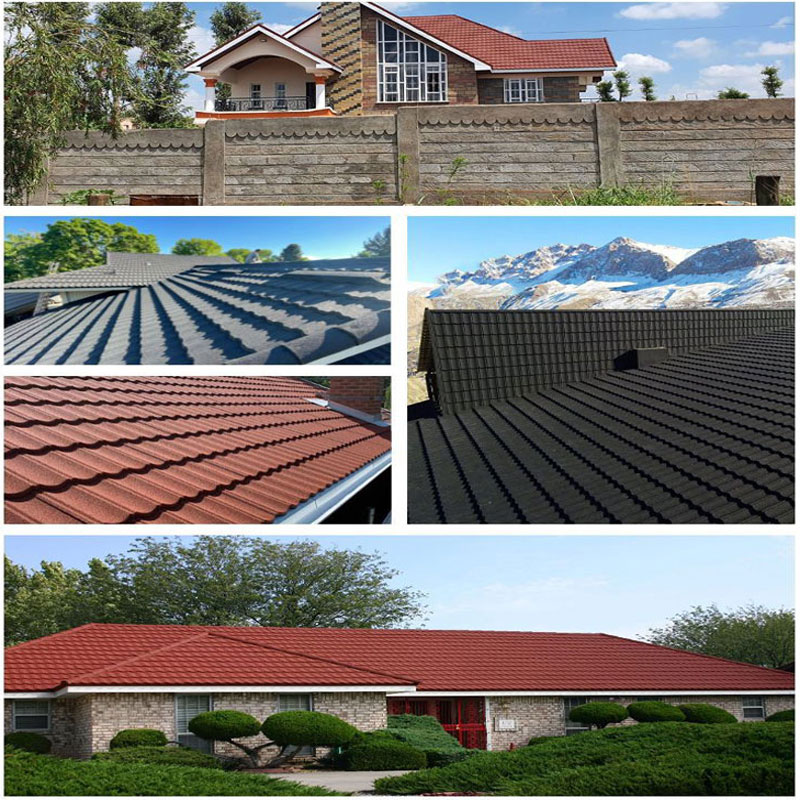 Traditional Roof Tile Packing
It is packed in wooden pallets and covered with waterproof film, so you don't have to worry about collision damage.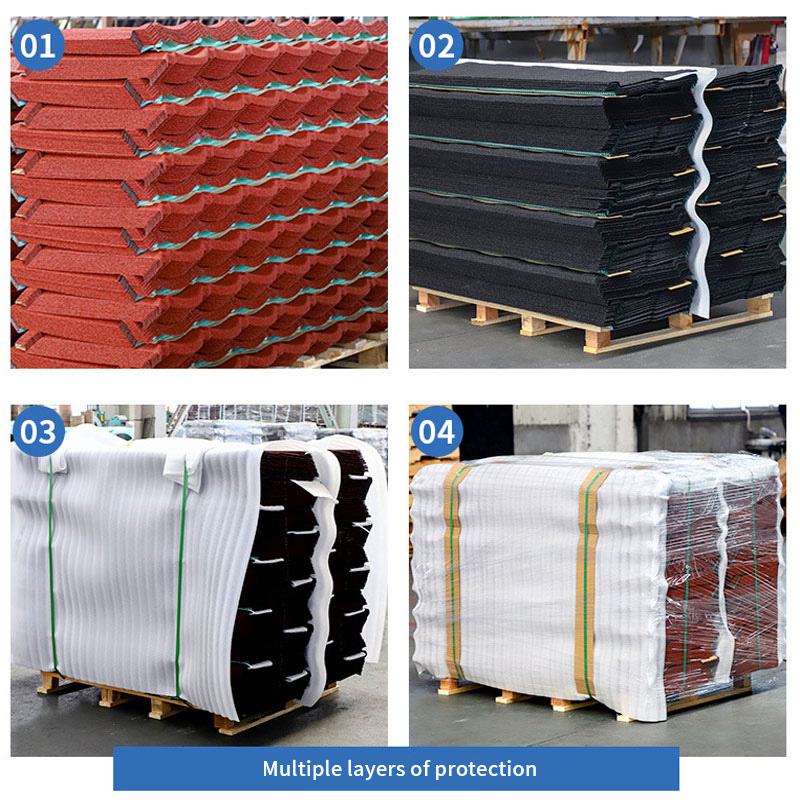 Traditional Roof Tile Production Process
1. Cutting raw materials
Firstly, the aluminum-zinc-steel coil, the raw material of the colored stone metal tile, is cut into appropriate tile sizes.
2. Lace
After the size is cut, the finished galvanized steel lace is punched out.
3. Die
The hydraulic press is used to press the mold, and the workers need to press out the pattern and the pattern is neat and beautiful.
4. Sandblasting
The worker sprays the resin adhesive and sandblasts for initial drying, and then the colored stones are evenly pasted on the bottom plate after sandblasting and baking.
5. Drying
Spray resin adhesive, sandblast and dry for the second time to ensure that the technology of colored stone tiles is firmly attached to the bottom plate without sand falling and fading.
6. Pack and store
After the above spraying and drying, it can be packaged and put into storage.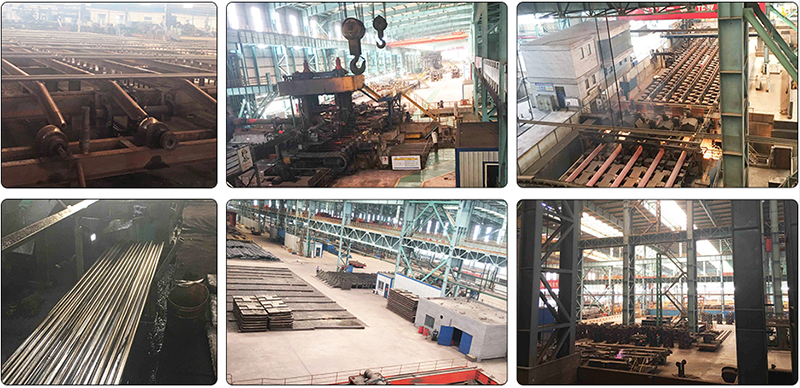 International Show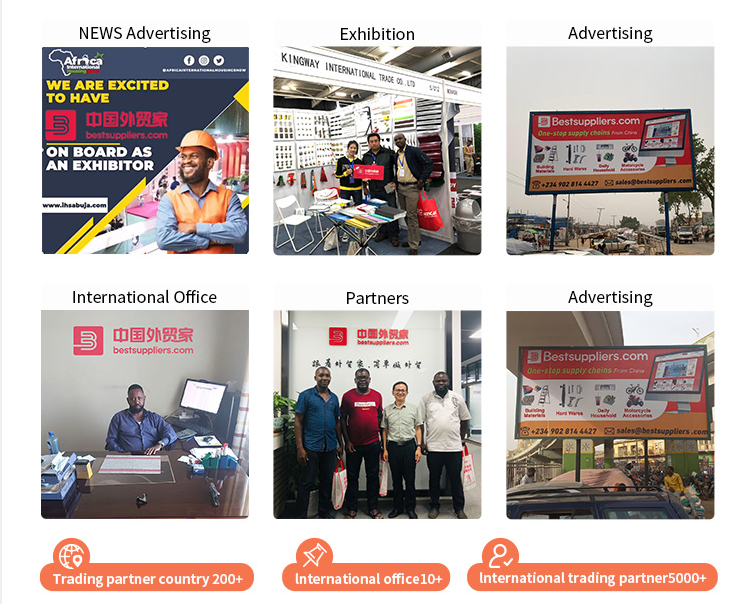 FAQ
Q1:Can you send free samples?
Yes, we provide free samples. You can test our products before buying in bulk, and make sure everything is as you imagined.
Q2: How about traditional roof tile price?
The traditional roof tile price depends on the cost of materials, labor, sea freight and other factors that may affect the unit cost. You can always consult us and get a favorable and reasonable quotation.
Q3: How can you guarantee the quality?
Our goods have international standard certification. We will confirm the product situation with you again in the production process. After the production, we will let our professional quality control group carry out quality detection and send the testing report to you. At the same time, we also support third-party testing organization to detect our goods.
Q4: How long is the delivery time for the traditional roof tile?
The lead time is associated with the complexity of your products. We may have some confirmation on the details before making a final decision. But once the traditional roof tile sample is approved, it will take roughly 30 to 45 days for mass production. Please contact us to know how long your products may take.
Q5: How do we start our business?
Step 1, please tell us the style and quantity you need.
Step 2, we will make PI for you to confirm the order details.
Step 3, when we have confirmed everything, we can arrange the payment.
Step 4, finally we deliver the goods within the stipulated time.
Contact Us
The best traditional roof tile supplier in China.
We have provided you with a variety of traditional roof tiles. Make purchasing easy.
Start a successful traditional roof tile business with us.
Please feel free to contact us if you need any further information.
Email: inquiry@bestsuppliers.com
Send Your Messages to Suppliers
Bestsuppliers will never sell your personal information without your permission.