Household New Multi-functional Intelligent Large-capacity Electric Fryer
US $14.61 - $16.26
/Piece |

1000

Pieces(Min. Order)
Product Size:
Voltage:
Power:
Capacity:
Control Method:
Customizable:
Contact us For product pricing, customization, or other inquiries:
Contact US
Verified Supplier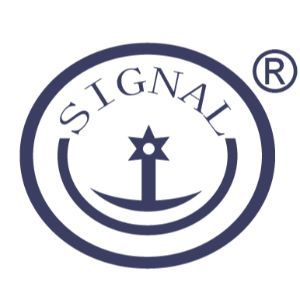 Lanxi Kingway International Trade Co., Ltd.
High-quality suppliers on the platform, committed to providing the best products, ensuring service quality and product quality.
Quick Details
Output:

4000 Pieces/Month
Export Port:

Shanghai/Ningbo/Qingdao
Payment:

L/C

T/T

D/P

Western Union

Paypal

Money Gram
Philips Air Fryer Instructions
What is an air fryer?
An air fryer is a versatile kitchen appliance or a benchtop appliance, using hot air circulation for cooking food in a similar way to deep frying. Note: Air fryers are not deep fryers. It can fry, bake, crisp, roast, and reheat any food. It's simple to use and ideal for beginners, you'll find it adorable once you master it.
-Difference between air fryers and deep fryers. Air fryers cook food using hot air and a tiny amount of oil, whereas deep fryers cook food with heated oil. In general, air fryers are healthier than deep fryers since they use less oil and fat, resulting in less fat and calories. Moreover, air fryers are often more energy efficient since they heat up faster and use less oil. Deep fryers, on the other hand, use more oil and energy and are more difficult to clean.
Which should you buy? Watch more:
What are the benefits of an air fryer?
Health. Compared with traditional deep frying, air fryers use very little (or no!) oil. If you're a businessman, the presence of high-sugar, high-salt, and high-fat dietary habits, air fryers are a good choice for you!
Convenience. When you are cooking, you just set the time and temperature, put it aside, and let it cook automatically. Most air fryers have a non-stick coating, helping you clean up conveniently.
-Can I use foil paper in the air fryer? Absolutely! The aluminum foil or parchment paper in the air fryer will help you make clean-up easier. Never function your air fryer with foil or parchment paper in it without food on top of the foil/paper.
Energy Saving. A heating element and a circulating hot air fan form a hot air system, circulating the hot air efficiently. Air fryers will be turned on for considerably less time, resulting in lower power use.
Versatility-What can you cook? Air fryers can be used to cook a wide variety of foods, including fried food like grilled chicken, chips or plantain chips, tater tots, chicken wings, pancakes, roast potatoes, hot dogs, onion rings, vegetables, and even cookies, and desserts like pancakes, brownies, doughnuts, and pies.
Portability. Air fryers are small, but solid and strong, and their weights are light and easy to take with you when you go on a road trip or become a hitchhiker to relax and enjoy your life.
Cooking quickly and easily. Air fryers typically take only ten minutes to cook food(in barely time), rather than hours on the kitchen range, making them a great option for busy households.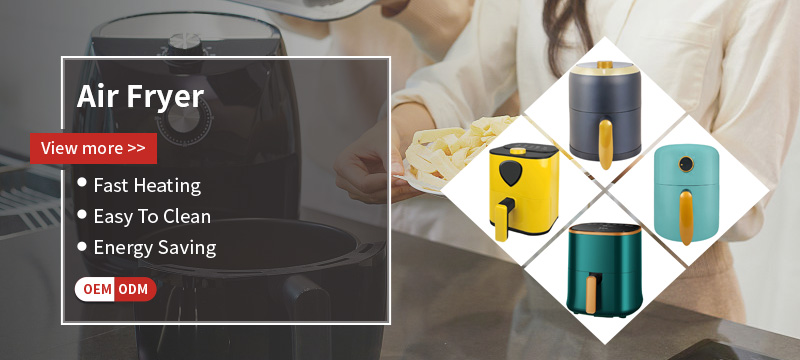 How does an air fryer work?
It's called the hot air technique. The heating element and the air fan utilize electricity and air to heat air and pump it through the food chamber. It does this with a fan, blowing the air around the food, so it's evenly heated. Unlike the oven, using a heat source at the bottom, the air fryer surrounds the food with air, increasing the ease of cooking and decreasing the amount of fat in certain food groups.
Tower Air Fryer Detail Features
Details of Air Fryers
Air fryers usually have several different control buttons, such as a power button, time and temperature settings, a pause and resume button, a keep warm setting, and a timer. Some air fryers also have a rotating basket option, which allows for the food to be cooked evenly. You can adjust the temperature and time settings depending on the type of food being cooked. Additionally, some air fryers have additional settings such as toasting, dehydrating, and even baking.
Types of Air Fryers
Basket Air Fryers. Basket air fryers heat up faster than other models, often in less than two minutes. Basket air fryers are small and take up less room in your kitchen. Basket air fryers are ideal for single users or small groups because they are considered little air fryers.
Air Fryer Ovens. A crisper and baking tray are kept in position in oven air fryers thanks to racks. The glass door of the oven air fryer, like an oven toaster, allows the user to see within.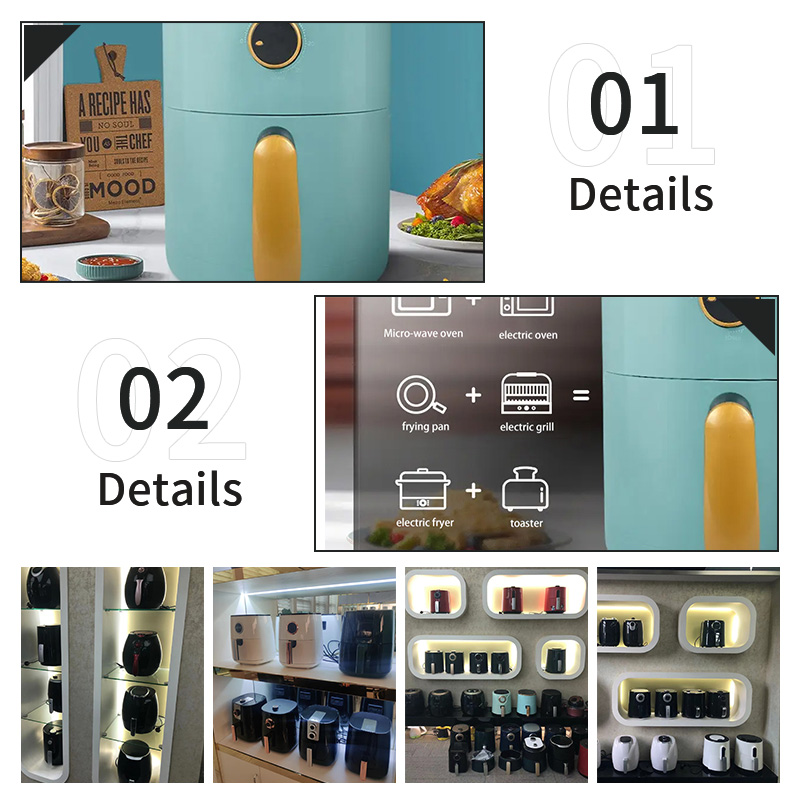 Instant Vortex Air Fryer Application
Cooking French Fries: Air fryers are great for preparing delicious crispy chips and tater tots.
Roasting Vegetables: Air fryers are great for roasting vegetables like potatoes, carrots, and other root vegetables.
Baking Cakes and Cookies: Air fryers can be used to bake cakes and cookies without having to preheat an oven.
Grilling Meat and Fish: Air fryers are great for crispy chicken legs, chicken wings, fish, steak, and other meats.
Making Healthy Snacks: Air fryers are ideal for making healthy snacks like roasted chickpeas and kale chips.
Reheating Leftovers: Air fryers are great for reheating leftovers like frozen French fries and pizza.
Air Fryers Production Process
Product Design
Engineers and designers will construct a product prototype and test it to ensure that it satisfies all safety and performance specifications.
Material Preparing
The air fryer is made from a combination of metal, plastic, and other materials. The exterior of the air fryer is typically made from a combination of stainless steel and plastic, while the interior is typically made from a combination of aluminum and non-stick materials.
The heating elements are typically made from a combination of metal and ceramic materials, which are designed to provide even heat distribution. The fan is typically made from a combination of metal and plastic, which is designed to circulate hot air throughout the air fryer. The control panel is typically made from plastic and is designed to provide easy access to the air fryer's settings.
Assembling
The components are first attached to the main body of the air fryer. The heating elements, fan, and control panel are then attached to the main body. The components are then tested to ensure that they are functioning correctly.
Quality Control
Quality control is an essential part of the production process. During this stage, the product is tested for any defects and any issues that may arise during the manufacturing process are addressed. The air fryer is tested for temperature control, safety, and performance.
Packing
The air fryer is typically packed in a box with bubble wrap or other protective materials to protect it from any bumps or drops that may occur during shipping. The packaging box is then sealed with tape to ensure that the air fryer is secure and will not be damaged during transit.
Finished Product
Air fryers are typically transported by truck or air freight. Trucks are used to transport air fryers over short distances, while air freight is used to transport air fryers over longer distances. Air freight is the most common method for transporting air fryers because it is faster and more cost-effective than trucking. The air fryers are carefully packed in boxes to ensure that they are secure and will not be damaged during transit.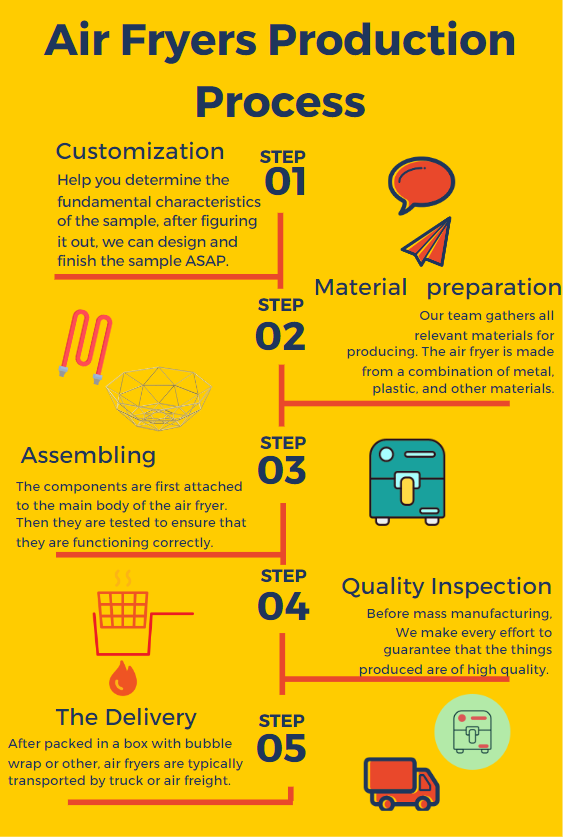 ODM/OEM
Company Profile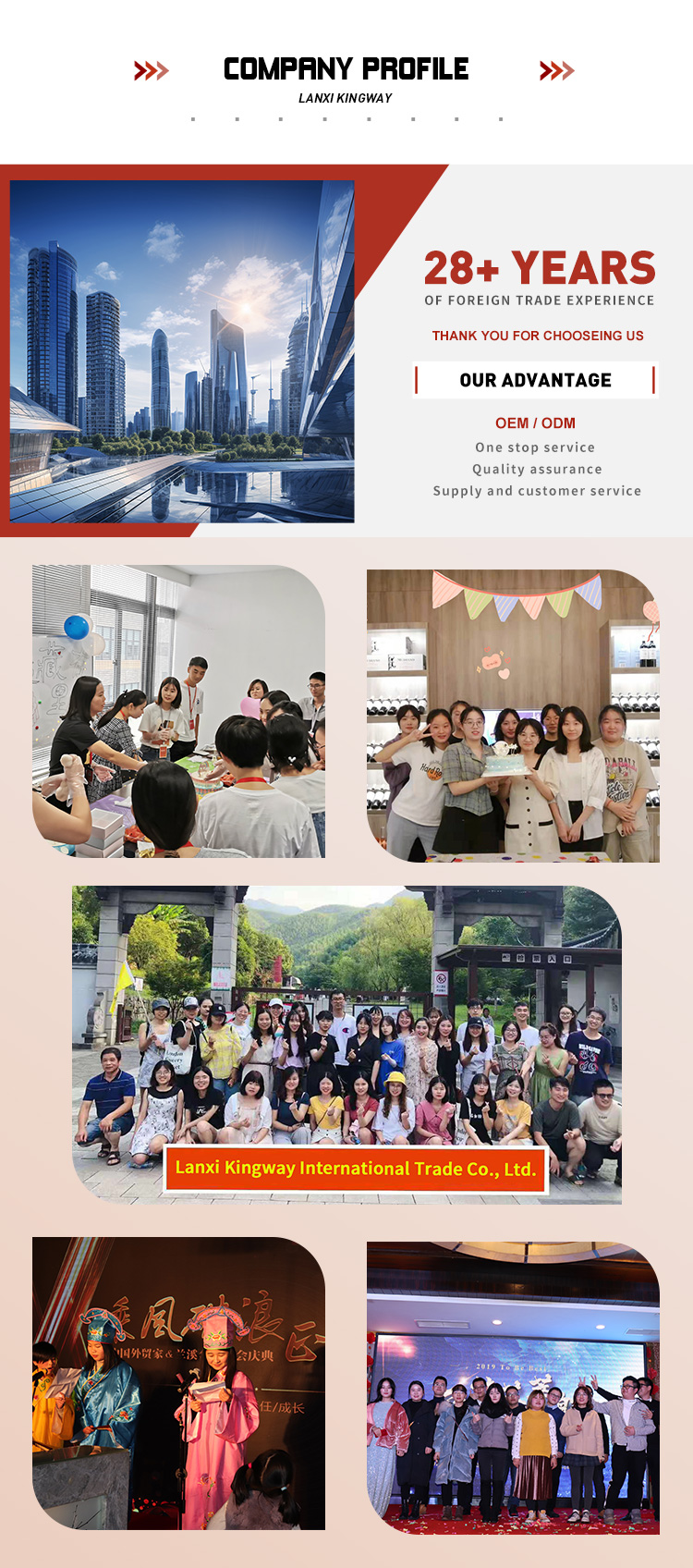 Lanxi Kingway International Trade Co., Ltd. was established in 2006 in Hangzhou City, Zhejiang Province. For many years, Kingway has been committed to supplying commercial lighting, home lighting, customized lighting, and has engaged in combined industry and trade as well as independent exporting. Our main products include lamps, plugs, sockets, luminaire lighting, solar lighting and ect.
Payment & Shipping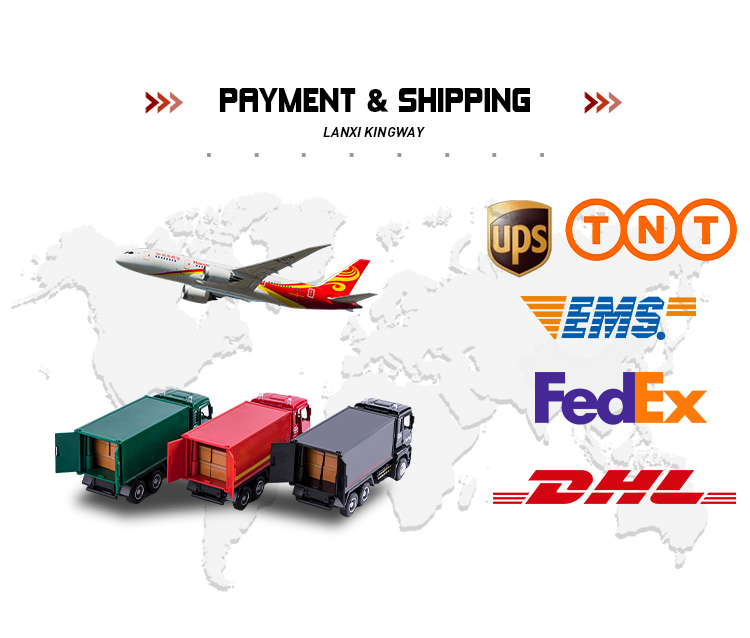 FAQ

1. What types of electrical components do you supply?
Answer: We supply a comprehensive range of electrical components, including plugs, sockets, lighting fixtures, and solar lighting solutions for various applications.
2. Can I request samples of electrical components before placing a bulk order?
Answer: Yes, we encourage clients to request samples to evaluate the quality, compatibility, and functionality of our electrical components before making larger commitments.
3. What certifications do your electrical components have?
Answer: Our electrical components comply with relevant international standards, and we can provide certifications and documentation upon request.
4. How do you ensure the quality of your electrical components?
Answer: Quality control is a crucial part of our production process. We conduct thorough inspections and testing to ensure that our electrical components meet industry standards and customer expectations.
5. What is the lead time for production and shipping of electrical components?
Answer: Production and shipping times depend on the type and quantity of the product ordered. We provide estimated timelines upon order confirmation.
6. What payment terms do you offer for electrical components?
Answer: Payment terms are negotiable and typically involve an initial deposit and final payment upon shipment. We accept various payment methods, including bank transfers and letters of credit.
Send Your Messages to Suppliers
Bestsuppliers will never sell your personal information without your permission.